SABR 41--Long Beach, California

by Scott Barzilla

As you saw in my last entry, I attended the SABR conference in Long Beach, CA in early July. I presented my poster on the Hall of Fame Index. As it turned out, my poster finished in second to a college group that printed a poster on Hitterfx. That is a relatively new study that looks to revolutionize the way we look at the game. They had databases, an unlimited Kinko's budget, and a whole team working on it. I had myself, about 100 dollars to spend at Kinkos, and my Dell mini.
That being said, the SABR convention is a must for any SABR member or baseball fan. When talking to non-baseball fans I could best compare it to a Star Trek convention for baseball fans. Of course, I say that with all the fondness and love I can. There were over 1000 people registered for the conference and many of them wore their vintage jerseys and hats throughout the conference. No one spoke Klingon or threw on their Spock ears, but baseball fans have their own peculiar language and it was spoken in spades throughout the week.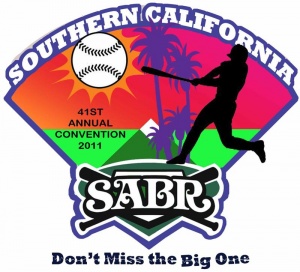 Scott Boras kicked off the conference with a speech that lasted well over an hour. No one fell asleep and most were on the edge of their seats. Boras is a very engaging speaker. He showed everyone why he is the number one sports agent in the business. While, he gave you reasons to hold your beliefs that he is bad for your team, he showed that he cares more for his clients than we might have believed. He told stories of his own playing days, early on in the agent business, and throughout with many strategies he used to get his clients more money. You may not have come out liking him more, but you came out respecting him and his passion for the game.
Individual speakers educated us on numerous topics like a look at the history of sports medicine, a breakdown of the Joe Morgan trade (as if we needed to be reminded), and a look at no decisions by Austin chapter president Gilbert Martinez. This was interspersed with a forum of bloggers at the Fangraphs event and two ML baseball games at Dodger Stadium and Edison Field. Along the way, I got to network with people in my line of study and meet people that were just names before. In particular, meeting Rob Neyer was a thrill and a half.
The Larry Dierker Chapter is in line to host the convention within the next couple of years. Hosting that many baseball lovers is a huge undertaking, but it is well worth it. Imagine the best meetings you've ever attended and project that out a whole week. Meanwhile, you have the vendors room to buy all the baseball books you can get your hands on. Overall, it is one of the most rewarding things I've ever done.
For more about SABR 41 and 42 visit: http://sabr.org/convention