SABR 44, Houston Highlights, 8/02/14-8/03/14
The Union Station entry to Minute Maid park on east side of Crawford at the corner where Texas Avenue intersects.
The weekend was great, with Saturday being crammed full of more opportunities to learn and exchange ideas and information than any single person could ever hope to fulfill at a single SABR convention. It would also be a weekend in which our local Houston Astros would play baseball as good teams normally play, taking two from the Toronto Blue Jays, 8-2 on Saturday and 6-2 on Sunday. Because of our Larry Dierker Chapter's excellent relationship with the Astros, SABR 44 attendees had the chance Saturday to attend two panel discussions in the great hall that is the old Union Station Depot and home office building that now serves as the main entry foyer for Minute Maid Park.
Union Station, as it appeared when it opened as a train station in 1912. It was later expanded upward by a couple of stories.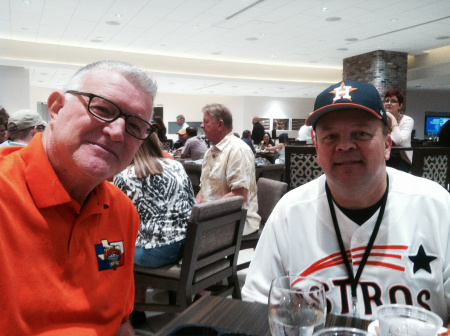 SABR friends Tom Plemons and Jan Larson enjoy a quiet discussion in between the parade of presentations.
Saturday morning at the Royal Sonesta was packed with Texas-theme presentations and presenters. Paul Spyhalski did a 30 minute talk on the Texas Black Spiders, the State of Texas Black Barnstorming champions. Eric Robinson did another half hour on the Houston Eagles and Professional Negro League Baseball in Texas; Jim Kreuz of the Larry Dierker Chapter did another 30-minute talk on why Jackie Robinson was not the Brooklyn Dodgers' first choice to break the color line; and Steve Steinberg took us a journey through the 1931 Dixie Series between the Houston Buffs and the Birmingham Barons. We mention these activities in no alight to all the fine balanced Texas and Houston themed presentations of Thursday and Friday. There simply isn't time and space to reach back that far this Monday morning, except to add, that everything local was terrifically balanced with presentations of national and international importance to the game. SABR 44 was anything but a parochial withdrawal from the big picture of baseball, but it was a chance to show more clearly how the Houston/Texas experience also influenced, and still influences, the direction of the game in 2014.
The playing field at Minute Maid Park now rests behind the back facade of old Union Station. This same area once held the tracks that brought the likes of Ruth and Gehrig to town for spring training games against the Houston Buffs.
Following a funny and dynamic one-hour panel that featured Dr. Bobby Brown (formerly of the Yankees), Bob Watson (formerly of the Astros and Yankees), Eddie Robinson (formerly of several other clubs and the Yankees), and moderator Paul Rogers (formerly of the Dean's Office at SMU Law School used the time well to discuss their experiences as players who rose high into the ranks later as baseball administrators.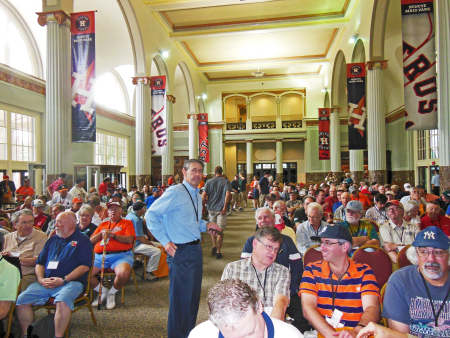 SABR 44 members were led by Marc Appleman (standing, blue shirt) into the great hall at Union Station for two panel discussions at the ballpark prior to the 6:00 PM Blue Jays @ Astros game.
When Buff Stadium opened in April 1928, downtown baseball fans of the Texas League Houston Buffs could catch the Galveston Interurban line and make the four mile trip to the ballpark in time for a late afternoon game from what was then Union Station and is now Minute Maid Park. Getting there on time became less of a problem for downtown workers once lights were installed in 1930.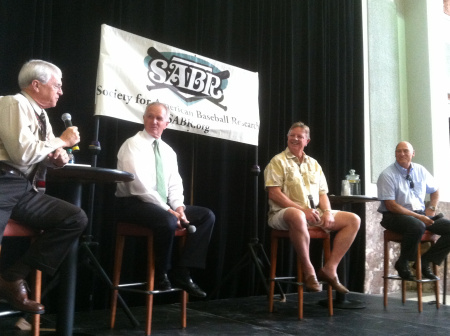 In the Great Hall, Bill Brown (L) led a former players panel of Astros (L-R) that included Alan Ashby, Larry Dierker, and Art Howe.
The guys were funny, real, and forthcoming. Although the focus was upon how each broke in, they could have named this panel "Breaking Good" as all the former players, and two of them were also former managers, broke differently, but well, into their professional baseball careers. As Dierker was speaking, I heard him recapturing the joy of being 18 years old again and getting to play the game he loved for pay. How many of us would take getting paid well to play and do well at a thing we passionately love for most or ll of our "working" lives? … Uh, let's not always see the same hands, class.
Gilbert Martinez (R) of the Rogers Hornsby Chapter moderated the Astros Decision Sciences Panel 0f (R.l) GM Jeff Luhnow, David Stearns, and Sig Mejdal.
As they all expressed in their own ways, in 2014, all clubs are far beyond the "Money Ball" play of the movie by that name. Today, all or most clubs have some kind of decision science plan in place. The key today is to be a leader in how to most effectively develop models of study that yield useful information that translates to building a winning ball club. Decision Science is not the replacement of scouting. It is the refinement of measurable information that can only enhance and serves as a check on baseball's traditional experiential and intuitive models of scouting.
Even Orbit couldn't solve all the jitters our SABR silent auction winner had with his first pitch effort, but he got it going anyway with catcher George Springer, who also signed the ball for our stalwart SABR brother.
Astros defeated the Blue Jays , 8-2,, aided by a double error score from 1st by Jose Altuve and an inside-the-park HR by Jon Singleton.
Astros defeated the Blue Jays , 8-2,, aided by a double error score from 1st by Jose Altuve and an inside-the-park HR by Jon Singleton.
Astros defeated the Blue Jays , 8-2,, aided by a double error score from 1st by Jose Altuve and an inside-the-park HR by Jon Singleton.
On a rare cooler day in August for Houston, he roof remained open for the Saturday game.
Late in the game of on the next to last day of SABR 44, local Chairman Bob Dorrill finally rested – as well he should have. With all our gratitude, Bob had earned it. As Reggie always liked to say about himself, we in Houston can honestly say of Bob Dorrill. – He is the straw that stirred the sweet drink that was SABR 44.Thanks too to co-chairs Marsha Franty and Gilbert Martinez, who helped provide the drink for stirring in so many big ways. We thank all of you for all you each gave to a successful run by SABR 44.!
Sunday afternoon found our Mike Vance taking another bus tour of SABR visitors into the history of our local ballparks. Mike also worked like a yeoman, doing his usual excellent job of showcasing Houston in its best, but always most honest light. Thanks to you too, Mike, for all you do make our Larry Dierker Chapter as good as it can be.

And thank you too, Father Gerald Beirne, for convening a Catholic Mass early Sunday morning for those of us who belong to that faith. You are walking proof that "God is Love" and that the victory pf giving over the pursuit of self-interest is our ultimate triumph.. Thank you, Father. I was happy to have attended another SABR Mass celebrated by you.
Father Beirne of Narragansett, Rhode Island attended his first SABR meeting in 1984 and he has been doing these Sunday Masses at SABR conventions for the past 23 years. Retired now, Father Beirne explained to me how he used to use a hand signal approach with his Mass servers as to when it was time to do all the little detail things that going into assisting a priest at a Catholic Mass. A tug at the ear lobe, for example, might signal a gospel reader to come up and deliver a package selected for reading at that particular Sunday Mass. – I couldn't help but think and share with Father Beirne that I thought it was both great and so natural that a priest who loved baseball would use hand signals to move his team around the field of play.
Father Gerald Beirne and Friends
And last, but never least, thanks to Larry and Kathleen Miggins for providing Father Beirne with items he needed to say the Mass in Houston. As always, both of your story-telling talents also shown through in the name of everything that is joyously funny and often inspirational.
The Pecan Park Eagle has one more SABR 44 story to cover, but we shall save that one until tomorrow. It's a column with a narrative too, but this time, the narrative flows through a parade of visuals. It's working title, for now, is "The Face and Fandom of SABR."
Have a nice Monday, everybody.