This Year's Gala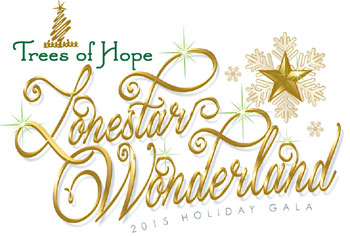 Please Join Us!
Friday, November 13, 2015
Omni Houston Hotel
Planning for our next grand event is well underway. Gala Chairs, Rosean Rogers, Melanie Rothwell and Heather Holmes, along with their amazing team, are already hard at work planning our fabulous Lonestar Wonderland Holiday Gala honoring long time supporters of both Trees of Hope and Star of Hope, Martha & Jim Hunt. Please join us for our Gala on Friday, November 13, 2015 at our fantastic new venue – the Omni Houston Hotel. Children from Star of Hope will sing for us before dinner and we will be entertained throughout the evening by the fantastic Doppelganger band.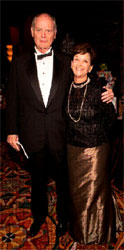 Lonestar Wonderland Holiday Gala Honorees
Jim and Martha Hunt
Our auctions will be more spectacular than ever with our signature trees and wreaths, and some special items with Texas flare.

The Live Auction is fabulous and to-date includes:
An exquisite 19 piece "A Christmas Carol" needlepoint village
A one week stay for eight in a beautifully restored 16th century four   story row house in Saintes, France
An amazing Antler Tree make from whitetail deer shed antlers
A Texas Longhorn – be on the lookout for his "birth announcement"A "Gift from the Heart" Tree with all the trimmings and gifts for a family at Star of Hope

These items and more will be available that night! We hope to see you there!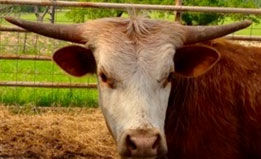 Young Longhorn Steer
Horns already measure
31 inches tip to tip
2014 Gala a Huge Success

Silver Bell Ball Gala-Celebrating 25 years of support for Star of Hope
What a beautiful night for our sellout party at River Oaks Country Club. Gala co-chairs Laura & Steve Jones and Rachel & Christopher Boehler arranged for an elegant and highly successful Silver Anniversary Ball honoring Three Generations of the Smith Family. Jim Sr. spoke from his heart about how much helping to grow and support Star of Hope has meant to his family. He said that he wished his parents and Carloss Morris could see how the mission continues to help those in need, and how proud he is that Jim Jr. is now on the board. Indeed, this was a family affair. Jim Sr.'s two sisters, Jim and Sherry's two daughters with their husbands, their oldest granddaughter Grace, along with Jim Jr. and Jaci, were all in attendance for this festive occasion.
Hank Rush, CEO and President of Star of Hope led us in prayer and introduced the sweet children from Star of Hope who entertained us with several choreographed song and dance routines. Their special performance reminds us why we choose to support the children's programs at Star of Hope with our event year after year. Trees of Hope President Heather Holmes and Honorary Chair and Life Trustee Lynn Wyatt, along with Dana Tyson each provided inspiration during the evening.
In keeping with the grand occasion Christofle flew their exquisite silver champagne vasque from Paris to serve our guests bubbly as they entered the gorgeous ballroom decorated by Fleur de Vie. Tootsies Precious Metals Tree "dripping in jewels" by famed designer Claudia Lobao (who was in attendance and whose best friend Eva Longoria tweeted about our party earlier in the day) took center stage. The spectacular tree designed by Three Doors, The Roundtop Collection, Elaine Turner and Regina Gust provided a fabulous backdrop for the beautiful auction area. Highlights of the live auction were the one of a kind hand stitched needlepoint cross tree skirt; the "Murder, Mayhem and Dinner" donated by Robin and Danny Klaes; the "Exclusive Dinner with Chef Chris Shepherd" prepared in your home; and A Gift from the Heart which provided a special family, who recently graduated from Star of Hope's Transitional Living Center, with a deluxe Christmas package complete with a beautifully decorated tree and gifts for the four young children being raised by their single dad. The dad represents one of many of Star of Hope's success stories. He graduated from the drug recovery program, earned his GED, received family counseling, took personal development and parenting classes, and gained employment. Dad has been clean and sober for over 2 ½ years and recently celebrated 2 years of being gainfully employed.
For a gallery of photos from the 2014 Trees of Hope gala, click here